My Family Tree - Submitted to the Windows Phone Marketplace
Last Modified: May 2 2017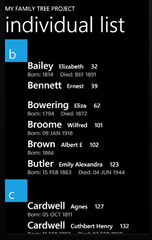 A few months ago I blogged about my plans to create a Windows Phone application based on my Family Tree Research hobby.
Well after a 5 month delay I finally submitted the first version of the application to the Windows Phone Marketplace today. I have made a few changes since my initial Blog Post. The most obvious change is that I added support for multiple GEDCOM files. The reason for this change was mainly for performance reasons.
My research database contains upwards of 1200 individuals, and downloading, parsing and serializing a file of 1200 records takes about 30 seconds so by supporting multiple files on the phone would allow my to split my research data into multiple smaller files.
I also spent some time adding some graphics, which I created from public domain images on the web.
Hopefully, I will hear in a few days whether my submission has been approved.
When that that happens I will provide some detail on how the application can be used, to carry your family tree research with you.