My Family Tree Project – A Windows Phone 7 App
Last Modified: May 2 2017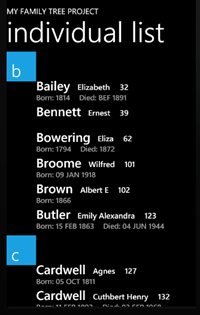 Regular readers of this blog will realize that, in addition to my interest in .NET programming, I am also an amateur genealogist.
Many times, over the last few years I have tried to combine the two – which is demonstrated by a codeplex project I created a couple of years ago. However, work, family and my inability to stick to a plan have gotten in the way of completing something usable.
I recently obtained a new Samsung Focus Windows Phone 7 phone, and it occurred to me that a Family Tree Application would be an ideal fit for the phone platform. After all, you may not have access to a laptop or desktop computer when you are delving through material in the basement of some archive.
Just before Christmas I downloaded the Windows Phone 7 Developer Tools and the Silverlight for Windows Phone 7 Toolkit, and I started work on a simple Windows Phone 7 App – "My Family Tree Project".
The goals of the first version of the App are quite simple.
Be able to copy an existing GEDCOM File (the standard format for Genealogy data) onto the phone from a PC.
Be able to view a list of Individuals in the file
Be able to view the following detailed information on each individual

Family Name, Given Names and Sex
Spouse(s)
Parents
A list of children
A list of events for the individual (Birth, Census etc)
Notes

Be able to navigate to individuals using the list view, and be able to navigate to related individuals when in the detail view
I have essentially finished most of these features although they still need some polish and more exhaustive testing (see below for screenshots taken from the Emulator)
Screenshots of "My Family Tree Project"
| | | |
| --- | --- | --- |
| Welcome Screen | Settings Screen | Individuals List |
| | | |
| Individual - Detail | Individual – Children | Individual – Events |
| | | |
| Individual – Notes | | |
| | | |
This week my application for a Windows Phone Marketplace account was approved – and my goal is to have the first version of "My Family Tree Project" available as a free download through the Marketplace by April.
Over the next few weeks – in future posts, I will highlight some of the challenges I faced on this project.