Look Mom, NoSQL! - 9. BigData TechCon here I come
Last Modified: May 2 2017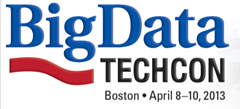 About 18 months ago I started a series on NoSQL Databases. I haven't blogged much on them for about a year, but recently I have been reading quite a lot recently about Big Data and NoSQL and my intentions is to continue blogging as I learn.
I am very excited to be going to the Big Data Tech Con conference in Boston next week. Interest in Big Data has grown considerably in the last few years fuelled by the needs of companies like Facebook and Google that generate huge amounts of data.
But Big Data is moving into the mainstream as more traditional companies realize the power that can be gained by analyzing large data sets.
Interest in NoSQL Databases is also growing but for different reasons. NoSQL databases take a different approach to the storage of data, and NoSQL Databases often fit the needs of large websites better than more traditional relational databases.
Last year I wrote a few introductory blog posts on NoSQL databases, but once I get back for Boston I expect to write more on these interesting topics. While I am interested in all things BigData and NoSQL, I am especially interested in Hadoop and the Hadoop Integrated File System (HDFS) and Neo4J – a Property Graph Database.